Sending Page Defaults - Power Admin
If you're a Sertifi Power Admin for your portal, you can update and make changes to the following sending page defaults:
You can access these account settings through the portal by clicking Administration > Account Settings > Sending Page Defaults.
Only users with Super Admin status can grant Power Admins permission to make these changes.
Additional Input Fields
You can add additional input fields to your signature documents to use for reporting or email templates. To add default input fields, click Additional Input Fields. Then, you can make these additional fields Required, show them, or hide them on your documents.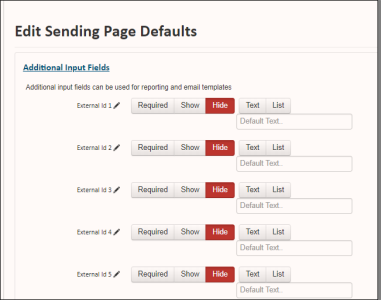 Ensure that you enter either text or a list for each field you want to add, up to 10 fields.
Click Save Template at the bottom of the page to save any changes you make to this section.
Default Signers
You can create default signers that appear on all of your signature documents, or you can choose to hide additional signers on your documents. Click Show or Hide for the signer levels.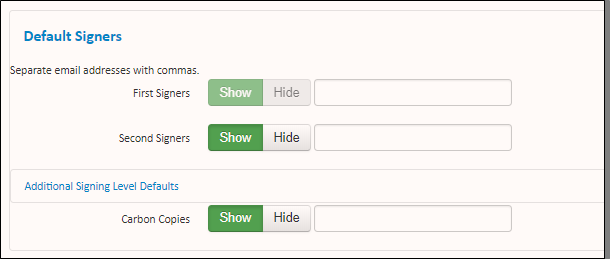 Entering email addresses in the Carbon Copies field ensures that whatever email address you enter in this field receive a carbon copy of the signing documents.
Click Additional Signing Level Defaults to show or hide third through tenth level signers.
Click Save Template at the bottom of the page to save any changes you make to this section.
Sending Options
You can enable the default Sending options for all of the files sent in the portal. This way, you can ensure that the same information is collected each time. You can choose to Show or Hide the following fields: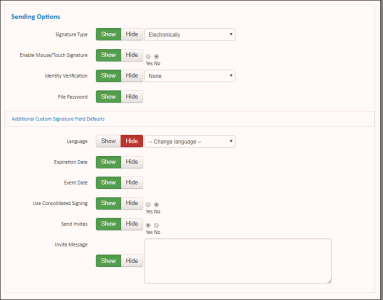 Signature Type
Enable Mouse/Touch Signature
Identity Verification
File Password
Additional Custom Signature Field Defaults
Language
Expiration Date
Event Date
Use Consolidated Signing
Send Invites
Invite Message
A majority of these fields require a choice of Show or Hide. This means that these fields appear when different roles create files in the portal, as well as to the signer or payer of your documents. The following fields require additional information outside of the Show or Hide option:
Signature Type - select Electronically, Print and Sign, or Either Electronically or Print and Sign to select the default signing method for all files.
Enable Mouse/Touch Signature - select Yes or No depending on if you want to enable a mouse or touch screen signature for your signers.
Identity Verification - select Question-based verification to require the signer to answer a series of questions to identify themselves.
Additional Custom Signature Field Defaults - if you have additional fields you want to add to your signature documents, click this link, and add the details for each custom field. These appear as large signature stamps on your signature documents.
Language - select the default language for the signing room.
Use Consolidated Signing - select Yes or No to enable consolidate signing for your signature documents.
Send Invites - select Yes or No to show the ability to send invitations for a file.
Invite Message - enter a default invite message to send in the invite emails for files.
Click Save Template to save any changes you make to this section.
Default Documents
In the Default Documents section, you can choose whether to show or hide the document library, signature document uploads, and reference document uploads for other Sertifi roles in your portal. Select Show or Hide based on your preferences.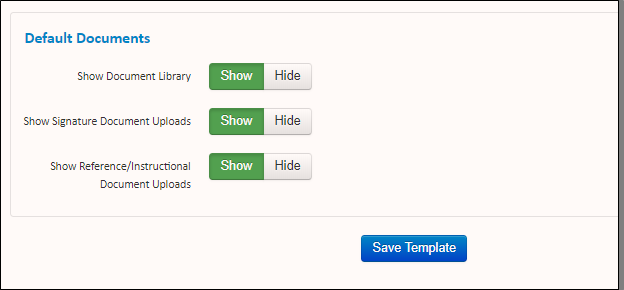 Click Save Template to save any changes you make to this section.